Given CSDA continuous effort to improve our services, we genuinely care about our users' opinions. Therefore, we decided to follow up on a CSDA enquête of 2020 and conduct a similar survey of our users again this year. In addition to the traditional questions on ways of using the data archive, we also inquired in detail about aspects of FAIR data, open science, and data preservation.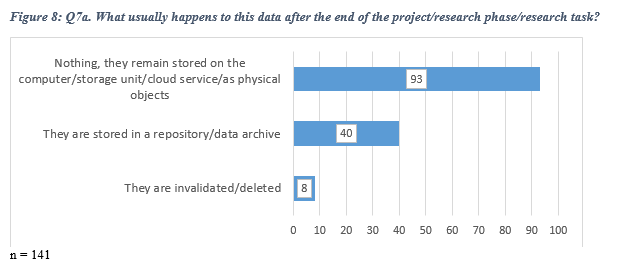 Methods
A brief anonymous questionnaire was published online from February 8 to March 31. A total of 3804 registered users of the Nesstar data catalogue were invited. Of them, 80 were excluded for various reasons (undeliverable invitations, job change, own request – no longer using the archive). A total of 281 respondents answered at least one question.
In contrast to the previous survey, the questionnaire was made available in two versions, English as well as Czech. In designing the questionnaire, we chose to focus exclusively on information related to CSDA operation while dropping questions on age, gender and other sociodemographic characteristics.
Main findings
Survey results
Most users exploit CSDA services under some kind of public organisation (84.7%) such as public educational institutions, academic institutions, or government institutions.
As for the type of activity, the data archive is predominantly used for study purposes (32%).
A total of 61.5% of the users surveyed exploit exclusively the CSDA and no other data archives.

Those using other archives typically mentioned the German GESIS and the Slovak SASD.

An overwhelming majority of users (81.8%) have a college degree.
While the respondents are somewhat familiar with the meaning of FAIR data (43.6%), the term does not mean anything to 43.2%.
The term Open Science is more widespread among the users, likely due to its explicitness: 46.6% declare knowing the term.
A total of 56% of the respondents state they produce some data in their study or work, but only 28.4% store the data in a content repository or data archive.

OSF is the most frequently used content repository and CSDA is the most frequently used data archive.

Of those not depositing their data anywhere, 66.3% would be open, under certain conditions, to storing their data in a content repository or data archive in future.
Implications
The relatively high number of answers to open-ended questions suggests that our users support us and want to contribute to developing the archive, share their ideas with us, and join us for a discussion of data preservation issues.
Interestingly, only about one-third of the users exploit data archives other than CSDA.
The findings indicate the need to step up user education on FAIR data but also on Open Science.
The survey suggests that there is a great potential for obtaining data from our users. Unfounded concerns and a lack of knowledge of existing processes are often among the obstacles to users' openness to storing their data in archives and repositories. The presentation of the data preservation process to users should be improved to assure potential depositors of its simplicity.